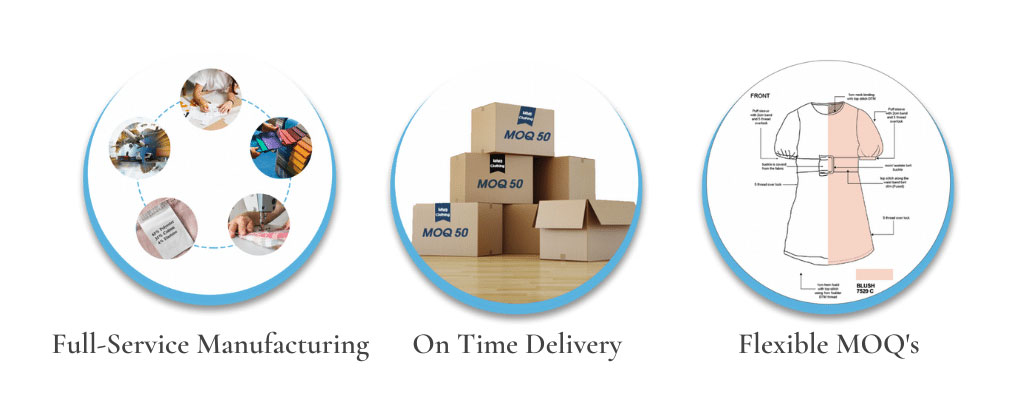 ONE STOP SHOP
We are a full service garment manufacturer providing export services to clients across the globe. Some of the services we provide are – Technical Design development, Printing, Pleating, Hand and Computer Embroidery, Beading, Custom trims, Labels, Fabric Testing, Lab Dips, Pattern making, Prototype Samples, Costing, Grading, Cutting, Sewing, Finishing, Packaging, Production Management, Quality Control, C&F & Fob delivery, LDP delivery (USA only), and more.

Quality Control
Our dedication to quality has earned us a stamp of reliability in the industry. To achieve complete satisfaction of our customers, we adhere to international quality standards for both woven and knitted garments. This includes quality checks for stitching, fabric, color, prints, embroidery, shrinkage, sizing, fitment, etc. Every single garment is checked and tested before it is dispatched to the customer.

Competitive Pricing
We have always been competitive & aggressive with our pricing while still providing quality garments to our customers. For every enquiry, we painstakingly work with our vast network of suppliers to get the best rates in order to provide the most competitive quote to our customers.
On Time Delivery
We have a proven track record in the industry for delivering products on time. We achieve this by having all departments work with each other to find and solve any potential issues that could arise during the production cycle.

Low Minimums
We are a large-scale factory with a monthly capacity of 90,000 garments. To stay ahead of the competition, and using our years of experience, we have mastered the art of fulfilling orders of any size. Thus enabling us to entertain orders as small as 300 pieces depending on the style.

Skilled Manpower
We only hire the best resources in the respective fields. Our team includes designers, merchandisers, account managers, technical experts, production managers, quality control managers, and manufacturing experts providing services from design, pattern making, technical specifications, sampling and production to achieve the creative design and specification of our clients.

State of the Art Infrastructure
We have a capacity of producing 90,000 units per month. We house the best machinery and are always upgrading to newer and innovative technologies. Some of the machinery include – Single needle, double needle, edge cutters, overlock machines, collar fusing machines, pattern grading, button holding, button attachment, 325Kg washing machines, Fusing machines, needle detection machines, computerized embroidery, chain stitch machines, basely balance, color matching cabinet, digital pilling tester and a lot more. With the help of all these machines we can bring the creative ideas of our clients to reality.

Fair Business Practice
We stride in being equal and fair to all our employees, suppliers, and customers. Our organization is professionally run with a valid license of doing international trade. Our factories are also certified by all branches of the government and follow all local laws where we do business. In addition, we are socially and ethically certified and compliant with SEDEX, CT-PAT, Intertek Social and Eleveate Social to name a few.

Guaranteed Customer Satisfaction
Customer satisfaction and delight is our primary objective at Achiever Apparels. Being a business-to-business organization, we understand and support open communication with our clients at every stage of the production cycle. We also take approvals from our clients at each step of development before proceeding to the next.
Let's Explore the Possibilities of Working Together 🙂
We would love to converse how we can add value to your business with the best of our expertise in producing high-quality clothing at competitive prices.