The journey started with a man who had the zeal and passion for running businesses. Since a humble age of 14 years, when most children were out playing, this boy was working alongside his father to run their family business. His experience therefore expands across various industries from farming to grocery to export. In 2004, this determined entrepreneur decided to leave his established and successful family garment export business of 22 years and step out of his comfort zone to create something of his own. It was then Achiever Apparels came into existence and since then there was no looking back for this entrepreneur.
With his forward vision, experience and knowledge, the company has grown year on year to do a yearly export of more than $10 million. His pillars of strength being a personalised approach to management, eye for detail, quality consciousness along with ethical business practices ensuring that his company is a preferred vendor across USA, UK, Europe & New Zealand.
Product Categories
WOMEN'S WEAR | KIDS WEAR
Denim | Wovens | Knits | Organic / Sustainable Fabrics | Recycled Polyester
Blouses | Tops & T-Shirts | Dresses | Skirts | Jeans | Jackets | Trousers | Shorts | Lounge Wear | Night Wear | Robes | Kaftans & Ponchos | Scarves | Lounge Wear
Markets
AUSTRALIA | CANADA | GERMANY | MEXICO | NEW ZEALAND | SINGAPORE | SPAIN | UK | USA
Achiever
Achiever
Achiever
In-House Facilities
77K SQFT | 100k – 120k UNITS MONTHLY
Fabric Dyeing | Garment Over Dyeing | Herbal Dyeing (Sustainable) | Multi-head Embroidery | Schifli | Hand Embroidery | Sequins & Beading | Quilting | Cutwork | Patchwork | Smocking | Rouching | Ribbon Embroidery
Achiever Apparels is a full-service garment manufacturing facility in Gurgaon, NCR, India with an ability to turn your design into reality quickly and reasonably. We are a quality conscious manufacturer with a great understanding of design technicality, silhouette, colour code, fitment, fabric compositions, embellishment, tailoring and finishing. Our strength lies in producing complex styles involving a variety of surface techniques like printing, cutwork, denim washes etc and embellishment such as embroidery and beading. Our in-house setup of hand and computer embroidery helps us to seamlessly integrate this into the designs much faster. We are equipped to welcome any volume, any type of clothing and styling for our valued customers. Our personalised approach will always make you feel welcomed and keep the communication transparent so you are rest assured that your orders will be fulfilled just the way you want them.
At Achiever Apparels we practice fair working conditions, respect and above average wages for our people. By adopting a custom order approach, we promote a zero waste and committed to sustainable clothing manufacturing and practices. Read more about our sustainability initiatives here.
OUR VISION
We aim to satisfy our global partners by becoming an admired end to end solution provider for all things garment manufacturing at competitive pricing. We strive to build long lasting relationships and provide the best service in terms of quality, workmanship and performance.
OUR MISSION
With a close-knit and dedicated team of designers, merchandisers, production and quality control staff, we ensure that orders are consistently delivered on time. We continue to adapt to changes in the global market and ensure we remain ahead of our competitors and meet our customer's changing expectations in terms of sustainability, innovation and technology.
OUR VALUES
Customer's satisfaction and delight
Superior quality of performance
Concern for environment and employee
Strive for excellence
Fair and friendly to all
Safe workplace and healthy work habits
Manufacturing
Our Team
At Achiever Apparels we make sure we recruit individuals with passion, talent and a sound exposure of the global fashion industry. Our team includes designers, technical experts, production managers, quality control managers, merchandisers, Key account managers, sourcing staff and other manufacturing specialists who provide services like pattern making, cutting, CAD and more. We also provide regular training to our professionals to help them up-skill and adapt to the trends of the textile industry.
Quality consciousness
Quality is of prime importance to us which has enabled us to set a strong foot in the garment industry since many years. Our team and infrastructure is equipped with latest quality testing tools to ensure the garments are delivered without any defects. To achieve complete satisfaction from our customers, we adhere to various international quality standards for both woven and knitted garments and stringent testing processes. Some of our quality objectives comprises of the following: enhancing the production, maintaining quality throughout our operation process, minimizing wastage of materials etc. The shipment is checked and tested on well- defined parameters, before dispatch. Some of these include- fabric strength, stitch durability, quality of prints and embroidery, tear strength, colour fastness & shrinkage amongst others.
Infrastructure
Our team and workforce is our biggest strength along with the latest trends and technologies, help in offering quality women's and kids garments at competitive pricing. Achiever Apparel's manufacturing units are specially designed to create quality bulk outfit. As a garment manufacturer, we are at the forefront of textile innovation and sustainability. Our factories is equipped with resources that perform tasks like knitting, embroidery, stitching, washing etc that have been sourced from strategic locations.
Some of our infrastructure details:
Stem Presses
Power Aided Cutting Machines
Power Operated JUKI Sewing Machines
KANSAI & JACK Flatlock and Folding Machines
JUKI & JACK Overlock Machines
Computer Aided multi head embroidery machines
Single needle, Double needle, Bartacker, Three, Four & Five thread Sergers, Coverstitches, Blindstitch hemmer, Zigzag, Button holer, Button sewer, Snap machine, Gromet machine, Eyelet, Fusing machine, Pocket opener, 4 to10 head Embroidery machines, Shirring machine, Smocking machine, Computerized Marking and Grading, Digitizer, Marker Plotter, and more. We also have many types of trim finishers, such as binder, hemmer and folders.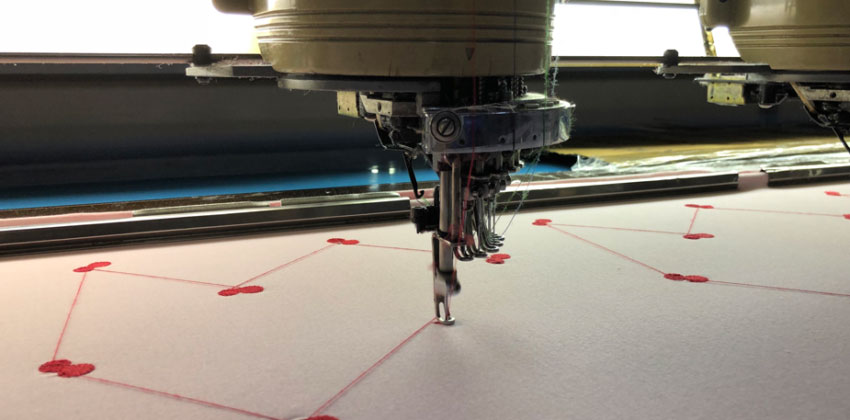 Let's Explore the Possibilities of Working Together 🙂
We would love to converse how we can add value to your business with the best of our expertise in producing high-quality clothing at competitive prices.